Most candidates were able to:
state the reason for earthing a portable power tool;
sketch a pictorial view of a pair of outside callipers.
However, they were unable to state the:
precautions to be taken before switching on a machine;
function of the given parts of a metal jack plane.
The expected response to question 1 is as given below:
(a) Precautions to be taken before switching on a machine:

- Remove scraps from around the machine and from the floor.
- Wear shoes with strong toe caps and insulated soles.
- Obtain permission to use the machine.
- Put on close fitting overall/apron tied at the back.
- Wear "safety glasses", goggles or eye shields.
- Check the setting-up.
- Make sure guards are in position and secure.
- Check the material for safe use on the machine.
(b) Functions of parts of metal jack plane
(i) The back iron
- breaks the shavings;
- deflects the shavings;
- prevents the fibres from tearing-up
- enables a smooth surface to be produced;
- provides tension to the cutting edge and prevents chattering or
vibration.
(ii) Cap iron secures the cutter and back iron in the bed.
(iii) Lever:

- Lifted or pulled up to release the cutter and cap iron from the bed.
- Is pressed down to secure the cutting iron and cap iron in place.
(iv) Knob is used for applying downward pressure to the plane with the hand
when planing.
(c) A portable power tool is earthed in order to:

(i) protect the operator from electric shock;
(ii) prevent the tool from damage.
(d)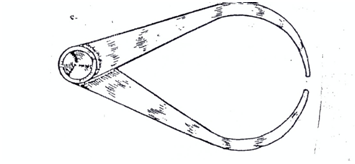 OUTSIDE CALIPERS