Most candidates were able to:
- draw an exploded view of a cross halving joint;
- state the use of a dovetail tee halving joint.
However, majority of the candidates were unable to:
- list the hand tools used in wood turning;
- name the types of drawing used in a furniture production shop.
The expected response to question 4 is as given below:
Wood turning hand tools:
- calipers
- parting tool
- scrappers
- gouges
- skew chisel
- round nose chisel
- spear point chisel
- flat chisel
- boring auger
- rule/tape measure
- dividers
- pencil
- handsaw
- hammer and centre punch.
(b) (i) Exploded view of cross halving joint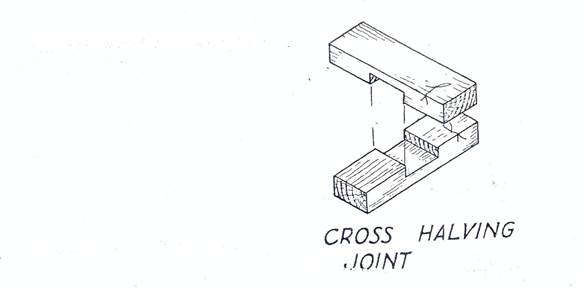 (ii) Dovetail tee halving joint is used for joining the ends of cross rails in frame – like construction where an outside strain occurs.
(c) Types of drawing
- workshop rod
- detailed drawing
- pictorial drawing: isometric, oblique, (cavalier and cabinet)
- exploded drawing
- orthographic views
- sectional views
- freehand sketches