(a) Diagram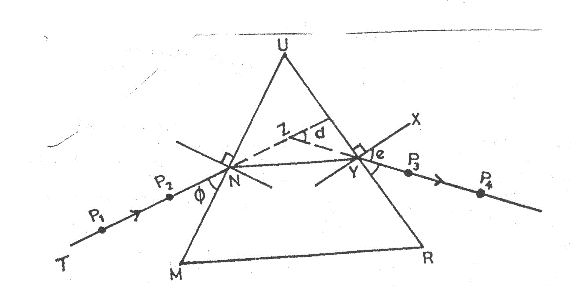 (i)You are provided with a measuring cylinder, two different tins labeled C and D, thermometer and other necessary materials.
(ii)Use the measuring cylinder provided to measure 100 cm3 of water and pour it into the tin labeled C(iii)Heat the water in the tin almost to boiling (90 oC).
(iv)Remove the tin and place it on a cork or wooden stand.
(v)Insert the thermometer into the tin and record the temperature of the water every minute starting from 85 oC until the temperature falls to 60 oC.
(vi)Repeat the experiment with the tin labeled D using exactly the same volume of water and temperature range.
(vii) Tabulate your readings.
(viii) On the same graph sheet and using the same axes and scales, plot two graphs of temperature on the vertical axis and time on the horizontal axis from the readings obtained using tins C and D.
(ix) Label the graphs appropriately as C and D to correspond with the tins used.
(x) From each graph, read off the time taken to cool from 85 oC to 65 oC.
(xi)State two precautions taken to ensure accurate results.

(b) (i) Explain how heat losses by radiation and convection are minimized in a vacuum flask.
(ii) State four factors which affect the rate of evaporation of a liquid in an open container.