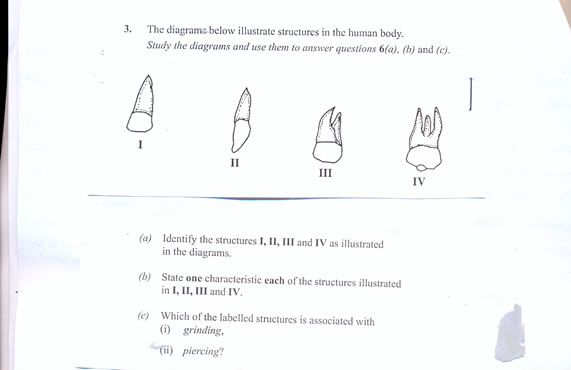 Identify the structures I,II III and IV as illustrated in the diagrams [ 4 marks ]
State one characteristic each of the structures illustrated in

I, II,III and IV [ 4 marks ]

Which of the labelled structures is associated with
grinding,
piercing? [ 2 marks ]
_____________________________________________________________________________________________________
This question was attempted by many candidates and their performance was fair. In part (a) many candidates correctly identified the illustrated structures in the human body. In part (b) many candidates could not correctly state characteristics of each the structures illustrated in I,II,III and IV. In part (c) many candidates could not correctly name the structures associated with grinding and piercing
However, the expected answers are as follows:
3(a) Identification of structures illustrated
I - incisor
II - canine
III - premolar
IV - molar.
(b) Characteristics of the structures illustrated
I Incisor
II Canine
III Premolar
Cusp
Broad and have two roots
IV Molar
Cusp
Broad and have three roots
(c) Structures associated with
Grinding: III/IV
Piercing: II