The expected answers were:
(a) Peak Inverse Voltage (PIV) may be defined as the maximum value of reverse
voltage to which a PN junction can be subjected without causing damage.
(b)A full-wave bridge rectifier circuit is displayed below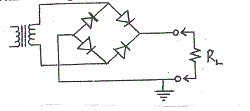 (c )And its output waveform will have the shape described as follows.
This question was on power supply. This question was popular with the candidates. Candidates' responses in all were adequate.