Few candidates who attempted this question did well. However, majority of them were unable to:
- state the methods of securing a tenon in its mortise without using glue;
- list the stuffing materials used in upholstery;
- list the types of turning operation performed on the lathe.
The expected response to question 4 is as given below:
(a) (i) Methods of decorating surfaces with veneers
- Side to side;
- End to end;
- Four piece;
- Diamond;
- Herring-bone;
- Segmental;
- Built-up patterning.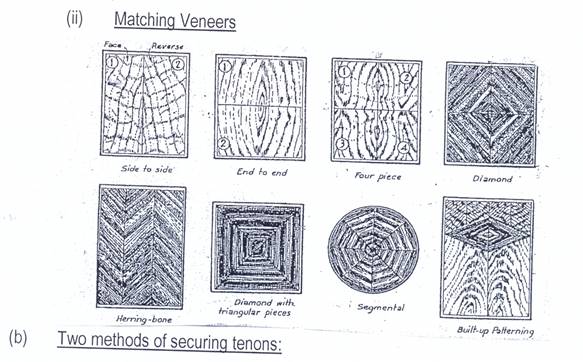 Wedging
- Foxtail wedging
- Drawboring
- Dowelling
- Nailing
- Screwing
(c) Stuffing materials used in upholstery
- feather;
- synthetic foam;
- cotton;
- rubberised hair;
- grass;
- latex foam;
- coconut fibre;
- horse hair.
(d) Two types of turning operation
- Face plate turning/face turning;
- Turning between centres (spindle turning);
- Boring in the lathe
- Cup chuck turning.