Question 2
The following materials were supplied:

One piece free cutting mild steel rod, 50 mm x 55mm;
One cotton bag 100 mm x 100mm to enclose the finished work;
Two tie-on labels.
The diagram below shows a detailed view of a machine part. Produce the part using the material supplied.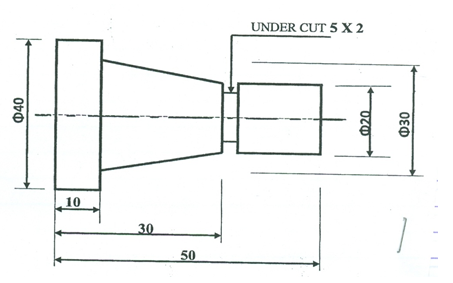 NOTE
Not drawn to scale;
All dimension in mm
Tolerance
Observation
No candidate attempted this machining exercise. Practical competencies required in this exercise include:
- Facing of two ends of a steel rod;
- Parallel turning;
- Undercutting to obtain a recess;
- Debarring to remove all sharp edges.
The reason why no candidate attempted this question could be attributed to lack of machines for the exercise. In addition most schools lack qualified technical personnel to teach the candidates.