(a) Many candidates gave an incomplete explanation. Many stopped at "cations are positive ions" and not all positive ions are cations.
(b) Many candidates were unable to present a diagram that shows a cathode and an anode dipped in an electrolyte or they drew wrong diagrams connecting external components to an otherwise correct set-up.
Very poor performance was registered by candidates.
The expected answer is:
(a) Cations – are positive ions that are attracted to the cathode (during electrolysis)

(b) Diagram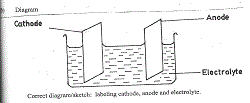 Correct diagram/sketch: labeling cathode, anode and electrolyte.