Question 15
(a) State three conclusions that can be drawn from Rutherford's experiment on the scattering of alpha particles by a thin metal foil in relation to the structure of the atom.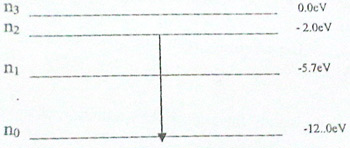 The diagram above illustrates the energy levels of an electron in an atom. If an excited electron moves from n2 to ns. Calculate the:
(i) frequency;
(ii) wavelength
of the emitted radiation.
[h = 6.6 X 10-34 Js; 1eV= 1.6 X 10-19 J; C = 3.0 X 108 ms" ]
(c)The following nuclear equations represent two types of radioactivity.


Identify each type and explain briefly the difference between them.