In part (b), many candidates could not draw the diagram correctly. Many others could not differentiate between angles of elevation and depression. They were expected to interpret the question diagrammatically as: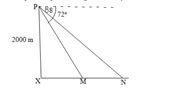 In the diagram, M and N represents the two boats. /XM/ = 2000 tan 18° = 649.84cm, /XN/ = 2000 tan 32° = 1249.74. /MN/ = 1249.74 – 649.84 = 600 m to the nearest m. In general, it was reported that majority of the candidates attempted this question and their performance were quite commendable.
The report stated that questions 14 and 15 were not attempted by the students as was demanded by the rubrics of the question.